It is mandatory to reserve the system prior to use and to ENGAGE MACHINE prior to starting your process in CORAL.
Loading a Wafer:
The wafer is loaded Using the Wafer Transfer Window located on the lower right of the screen: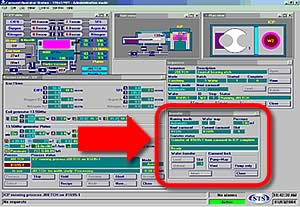 Vent the loadlock by clicking on the Vent button: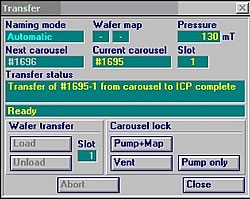 Manually load the wafer onto the load arm Using a pair of tweezers and click the Pump + Map button.
Using a Sequence:
Load the desired sequence Using the Sequencer window located on the middle right side of the screen: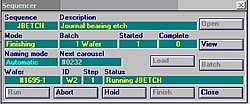 Click on the Open button to display the list of available sequences. Use the View button to check that the selected sequence utilises the correct recipe and the Batch number is correct for your number of wafers.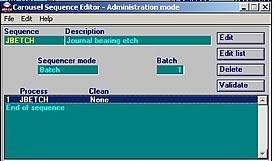 Before beginning the process, open the Recipe Editor and ensure that the correct process time has been entered (see the Editing a Recipe section below). If everything is correct, click on the Run button on the Sequencer window. The system will automatically load the wafer, run the recipe and unload the wafer to the loadlock. When the wafers have completed processing, they will turn green and can be removed from the loadlock by clicking the Vent button on the Transfer window.
Using Manual Mode:
After clicking the Pump + Map button, the wafer loaded will appear in the Plan View window. The wafer is loaded into the process chamber by clicking on the Load button on the Transfer window. When the wafer has been loaded, the desired process can be selected by clicking on the Select button on the lower left of the Process Control window.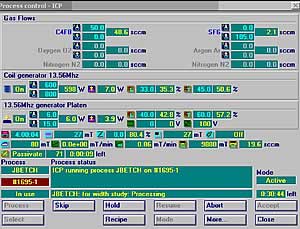 Once the recipe has been loaded, click on the Process button to begin running the process. When the recipe has completed, click on the Unload button on the Transfer window to remove the wafer from the chamber, click on the Vent button to vent the loadlock and remove the wafer.
Recipe Editing:
To open the Recipe Editor, click on the Recipe button on the bottom centre of the Process Control screen.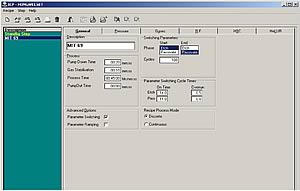 On the General control screen the process time may be adjusted – the process length can be set by time or by number of etch/passivation cycles. This step allows to you change the ProcessTime. The Pressure, Gases, R.F.,HBC and HeLUR tabs may be clicked on to view the recipe parameters but no other set point should be adjusted without consulting the Engineer in charge of the tool.
If there are any issues with the tool post a comment in CORAL and contact Donal 2-2983.