Becoming an MTL Fab User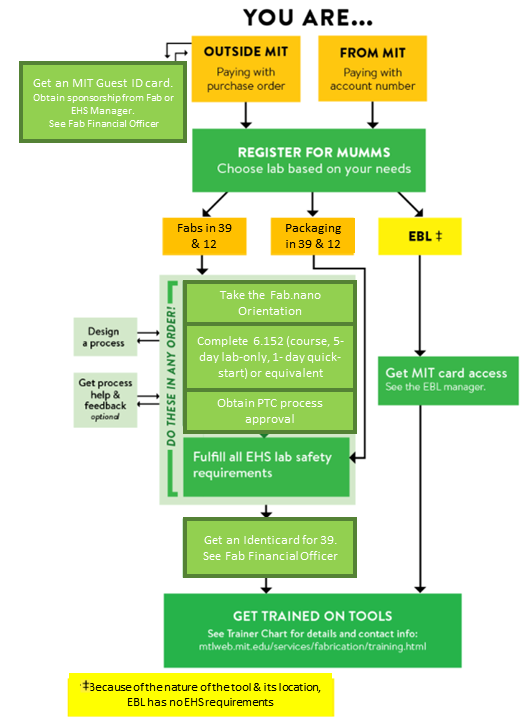 Details and Live Links
There are several ways to conduct your work in MTL's fabrication facilities. We accept users within and outside of MIT. These users are referred to as "Internal" and "External" users. Please determine what type of user you will be.
Internal Users (From MIT): Internal users of the fabrication facilities come from within MIT. They are students, faculty members, or other research personnel at the Institute.
External Users (Outside MIT): External users of the fabrication facilities fall into one of three categories: they are part of the Outreach program which allows access to MTL facilities for researchers and students from universities and government research labs; the Fabrication Facilities Access (FFA) program, which allows access to engineers from industrial entities; or they are members of the Microsystems Industrial Group (MIG), where the use of MTL facilities is a benefit of membership. Once you have been accepted to one of these programs, you will need to follow the regular procedures required of internal MIT users.
To become an MTL Fab user, you must complete the following steps:
If your MTL IDenticard has been deactivated because your training has expired,

you will need to redo your Training Needs Assessment and add "Vicky Diadiuk" as one of your PIs/Supervisors in order for you to be able to access

MTL-specific EHS required courses

.

MIT Learning Center

(

MIT certificate required

)