Issue 2012.2
Friends and colleagues,

The latest technical achievements of MTL students and faculty, our numerous summer awards, and the inauguration of the MTL Prof. Rafael Reif as the 17th president of MIT, highlight this newsletter. We are constantly on the lookout for opportunities to spotlight the successes of our alumni and industry members, so send us a note and share your story through any of our social media channels. We love hearing from you.

Sincerely,
Vladimir Bulović, MTL Director


Their own devices


April 18, 2012





MIT's Medical Electronic Device Realization Center forges a path connecting microelectronics and new health-care tools.


» Read More...





The Inauguration of
L. Rafael Reif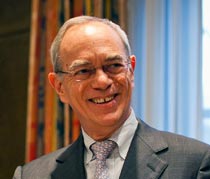 On Friday, September 21, 2012, the global family of MIT will gather on campus for the inauguration of Rafael Reif as MIT's 17th president.
» READ MORE...
MTL Graduation 2012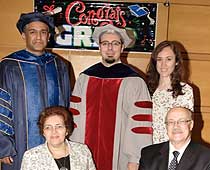 MTL's annual reception for graduates took place on June 1, 2012, with the usual fun, fanfare, and food that all have come to enjoy after Commencement! The photos are accessible on MTL's Flickr page.

Save the date: January 29, 2013!



Center for Excitonics
MTL is pleased to announce its newest partner in research, the Center for Excitonics, led by Prof. Marc Baldo. With a focus on the development of low cost devices that utilize excitons to mediate the flow of energy better than traditional electronics, the center is a welcome addition to our family of laboratories.

Fabrication Facilities Access
MTL's Fabrication Facilities Access Program, FFA, opens up MTL labs to industrial users in need of high quality micro/nano fabrication facilities. To enhance our service, we changed the fee structure, making the program even more attractive to small companies. Find out more by contacting Dr. Vicky Diadiuk, MTL Associate Director, diadiuk@mtl.mit.edu.


Scaling of High-Aspect-Ratio Current Limiters for the Individual Ballasting of Large Arrays of Field Emitters, IEEE Transactions on Electron Devices, 2012
Solid-state dewetting of thin films, Annual Review of Materials Research, 2012
Liquid Freezing Dynamics on Hydrophobic and Superhydrophobic Surfaces, Journal of Heat Transfer, Aug. 2012
High-damping carbon nanotube hinged micromirrors, Small, 2012
Probing embryonic stem cell autocrine and paracrine signaling Using microfluidics, Annual Review of Analytical Chemistry, v 5, p 293-315, July 2012
A Monolithically-Integrated Optical Receiver in Standard 45-nm SOI, IEEE Journal of Solid-State Circuits, v 47, n 7, p 1693-702, July 2012
A 12 b 5-to-50 MS/s 0.5-to-1 V Voltage Scalable Zero-Crossing Based Pipelined ADC, IEEE Journal of Solid-State Circuits, 2012
Out of thin air: Energy scavenging and the path to ultralow-voltage operation, IEEE Solid-State Circuits Magazine, 2012
Single photon counting from individual nanocrystals in the infrared, Nano Letters, 2012
Van der Waals epitaxy of MoS2 layers Using graphene as growth templates, Nano Letters, 2012
Structured surfaces for enhanced pool boiling heat transfer, Applied Physics Letters, 2012
Study of field driven electroluminescence in colloidal quantum dot solids, Journal of Applied Physics, 2012
Graphene electronics for RF applications, IEEE Microwave Magazine, 2012
Submicron mapping of thermal conductivity of thermoelectric thin films, Journal of Electronic Materials, 2012
Open foundry platform for high-performance electronic-photonic integration, Optics Express, 2012
An electrically pumped Germanium laser, Optics Express, 2012
Vertical emitting aperture nanoantennas, Optics Letters, 2012
Leveraging smartphone cameras for collaborative road advisories, IEEE Transactions on Mobile Computing, 2012
Virtual-source-based self-consistent current and charge FET models: From ballistic to drift-diffusion velocity-saturation operation, IEEE Transactions on Electron Devices, 2012
» MORE PUBLICATIONS




MTL welcomes new employees Phoebe Biagiotti and Grace Lindsay to the MTL community!
Congratulations to Coleen Kinsella and proud father Donald Milley on the birth of their daughter, Fiona Violet, born July 20th!
Our thanks to Ameerah Schmidt for her help during Coleen's absence.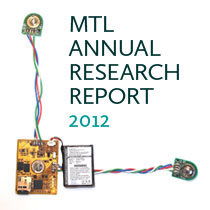 Now available online!



The Fall 2012 MTL Seminar Series is starting soon. To see what's in store for the fall semester, visit the seminar series homepage.