MARC2007
January 24-25, 2007
Waterville Valley Conference & Event Center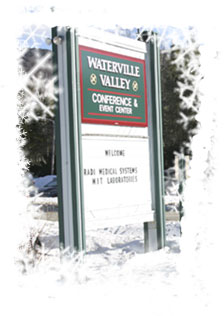 Location
Waterville Valley
Conference & Event Center
1 Ski Area Road
PO Box 540
Waterville Valley, NH 03215
MARC2007 returns to the popular Waterville Valley Conference & Event Center!
"Where do great ideas come from? From an environment where open spaces inspire open minds. A place where all the little things are taken care of so you can spend your time thinking about big things - like the 4,000 foot peaks right outside your door. A place that takes only a short time to drive to while making you feel like you're a million miles from the office. A meeting complex that offers everything you'd find in a big city - large amounts of flexible meeting space, full audio/visual services, exceptional catering services, and a thoroughly professional staff - except a big city. The Waterville Valley Conference & Event Center has all that and more. But don't think of our valley as the perfect place for your next meeting...think of it as the birthplace of your next great idea."
While staying at Waterville Valley, you will be able to participate in a number of activities, both indoor and outdoor. MTL is furnishing a half-day ski pass and an activities pass to MARC2007 attendees. Other activities are available for an additional charge.