The basic system demonstrated so far was designed by Lane Brooks, a Junior in the Department of Electrical Engineering and Computer Science, and Prof. del Alamo. It is sketched in the figure.

The setup features an HP4155B Semiconductor Parameter Analyzer and a Windows NT server that doubles as instrument controller. Communication between the instrument and the computer takes place through a GP-IB interface. The device can be simply mounted on a standard test fixture.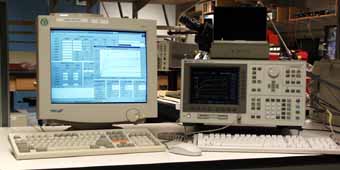 Remote access to the set up is provided through a Java applet that is downloaded from the server to any remote user on an authorized list. The Java applet that we have constructed mimics the essential features of the front panel of the HP4155B. We have not attempted to capture the entire functionality of the HP4155B but just those elements that are useful in an educational setting. In its current implementation, the system features:
Full programming capabilities of the four SMU's (semiconductor measuring units), two VMU's (voltage measuring units), and two VSU's (voltage source units) of the HP4155B.


Full programmability of all functions and arithmetic operations possible in the HP4155B.


A graphical display of the measured data using an interface nearly identical to that of the HP4155B. In particular, an autoscale feature has been implemented.


A setup save and retrieve utility.


A download function that transfers the data in several formats to the userís machine for post-measurement manipulation, such as graphing, comparison with theory, etc.


---
For more information, contact: Prof. Jesus del Alamo
Copyright © 1999 Massachusetts Institute of Technology