Conventional courses in microelectronic device physics rarely include a laboratory experience that exposes students to the workings of real devices. This is because of equipment, space, training, safety and staffing constraints that become nearly insurmountable the moment there are more than a dozen students in the class. Actual device characterization, however, can substantially enhance the educational experience. Students can compare their measured data on real devices with the theoretical expectations and reflect on discrepancies, limitations, and design criteria. In addition, close cont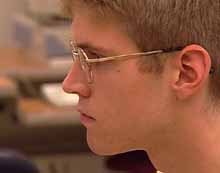 act with the real world is always a powerful motivator and students learn better.

At MIT, we have just demonstrated the feasibility of a "web-based microelectronic device characterization set up" to enable real microelectronic device characterization to be carried out by large number of students in the context of a device physics class. In this approach, students measure the characteristics of real devices that are placed in a laboratory. Unlike a regular laboratory experience, students access the device characterization instrumentation through the web. There are several advantages to this approach:
The experiment can be made available over extended periods of time at any time of the day and night. This allows students to conduct their measurements whenever they wish.


There are no special staffing requirements. Once the device is in place, no further staffing of the lab is required.


The system is nearly as flexible as the instrumentation itself. This means that no new programming is required whenever a different device or measurement routine is required.


There are no safety concerns. Students work from the safety of their homes or institutional computer clusters. No safety training is required to use the system.


Scarce instrumentation and lab space can be effectively used by many students. The system queues requests and executes them in real time. Under most circumstances, students have the feeling of owning in exclusivity the entire measurement setup.


Training is moderate since students need only learn those instrument functions that have been programmed in the software interface. A suitable manual can be made available on line.


In this proposal, we describe the prototype system that has been used to demonstrate this concept. In its first feasibility-demonstration phase, research instrumentation from the Prof. del Alamo's lab was utilized. Results from this first phase are summarized below.
We have recently obtained a donation from Hewlett Packard for instrumentation that will be dedicated to supporting the use of this system in microelectronic device physics subjects at MIT in regular basis. This donation is worth $76K. This donation is going to enable a wider use of the system as well as an expansion of its capabilities. In particular, the donation includes a switching matrix. This device allows the user to select from a number of available devices, as opposed to only one in the existing set up.
Funds are being sought to support this second phase of this project.
In a third phase of this project, we will work towards exporting the technology to other institutions. We will also explore making this system (or a similar one) available to selected educational institutions in countries under development to support their educational offerings in the microelectronics area.
---
For more information, contact: Prof. Jesus del Alamo
Copyright © 1999 Massachusetts Institute of Technology