Issue 2013.1
IN THIS ISSUE
Friends and colleagues,

We start the new year by celebrating achievements of our students and faculty at the MTL Annual Research Conference (MARC 2013)—which this year highlights 100 poster presentations, eight student talks, the keynote address by Dr. Lisa Su of AMD, and an evening talk by Prof. Tom Lee of Stanford.

In 2012, our core faculty membership grew to 44—spanning five academic departments—and we recently welcomed Samsung as our newest Microsystems Industrial Group partner. Below you will find reports on our latest technical achievements, and a news section with stories of recent successes of start-ups that grew out of MTL.

Happy New Year to you all,
Vladimir Bulović, MTL Director



Chips that can steer light


January 9, 2013





Record-setting "optical phased arrays" could lead to better laser rangefinders, smaller medical-imaging devices, and even holographic TVs.


» Read More...










Faculty Profile:
Tonio Buonassisi


January 2013





Professor Buonassisi, heads an interdisciplinary laboratory focused on photovoltaic technologies.

His group invents, develops, and applies defect-engineering techniques over the entire solar cell process—from crystal growth to modules—improving the cost effectiveness of commercial and next-generation solar cells.


» Read More...

Faculty Profile:
Dirk Englund


January 2013





Professor Englund's research leverages semiconductor technology to develop quantum technologies for information processing and precision measurements. His work addresses integrated photonic crystal devices and networks for quantum information processing and advanced optoelectronic devices based on cavity quantum electrodynamics.


» Read More...

« Back to top



Upcoming: MIT Day at Maxim
MTL students and faculty will visit Maxim headquarters in San Jose, California for a day of technical interaction with Maxim researchers on February 21, 2013.
Upcoming: MTL at ISSCC
We are delighted to invite you to the MIT CICS/MTL ISSCC reception on Monday, February 18, 2013 at 5:30 pm. This event will be located in the Club Room (Atrium Level) at the San Francisco Marriott Marquis.

Please RSVP to Debroah Hodges-Pabon no later than February 8, 2013 with the following information:
Name
Affiliation (faculty, student, alumni, industry, or friend of MTL)
Company
Email address
No. of guests


A Wearable Cardiac Monitor for Long-Term Data Acquisition and Analysis, IEEE Transactions on Biomedical Engineering, vol. 60, no. 1, September 2012.
Scaling of High-Aspect-Ratio Current Limiters for the Individual Ballasting of Large Arrays of Field Emitters, IEEE Transactions on Electron Devices, Vol. 59, no. 9, pp. 2524 - 2530, September 2012.
Fine grain commutation: integrated design of permanent-magnet synchronous drives with highest torque density, International Conference on Electrical Machines, pp. 671-677, September 2012.
Energy extraction from the biologic battery in the inner ear, Nature Biotechnology, Vol. 30, pp. 1240-1243, September 2012..
Platform Architecture for Solar, Thermal, and Vibration Energy Combining with MPPT and Single Inductor, IEEE Journal of Solid-State Circuits, Vol. 47, no. 9, pp. 2199-2215, September 2012.
Integrated Circuits Based on Bilayer MoS2 Transistors, Nano Letters, Vol. 12, no. 9, September 2012.
Co-polymer clad design for high performance athermal photonic circuits, Optics Express, Vol. 20, no. 19, pp. 20808-20813, September 2012.
A 2.4-GHz, 27-dBm Asymmetric Multilevel Outphasing Power Amplifier in 65-nm CMOS, IEEE Journal of Solid-State Circuits, Vol. 47, no. 10, pp. 2372-2384, October 2012.
A facile route for 3D aerogels from nanostructured 1D and 2D materials, Scientific Reports , Vol. 2, November 2012.
Enhanced Condensation on Lubricant-Impregnated Nanotextured Surfaces, ACS Nano, Vol. 6, no. 11, pp. 10122-10129, November 2012.
Separation of Leukocytes From Blood Using Spiral Channel With Trapezoid Cross-section, Analytical Chemistry, Vol. 84, no. 21, pp. 9324-9331, November 2012.
Sub-30 nm Quantum-Well MOSFETs with Self-Aligned Metal Contacts and Sub-1 nm EOT HfO2 Insulator, IEEE International Electron Devices Meeting, pp. 757-760, December 2012.
High Mobility High-κ-All-Around Asymmetrically-Strained Germanium Nanowire Trigate p-MOSFETs, IEEE International Electron Devices Meeting, pp. 387-390, December 2012.
Three-dimensional multiwaveguide probe array for light delivery to distributed brain circuits, Optics Letters, Vol. 37, no. 23, pp. 4841- 4843, December 2012.
Graphene Cathode-Based ZnO Nanowire Hybrid Solar Cells, Nano Letters , Vol. 13, no. 1, pp. 233-239, January 2013.
Emergence of Colloidal Quantum-Dot Light-Emitting Technologies, Nature Photonics, Vol. 7, pp. 13-23, January 2013.
Development and testing of bio-inspired MEMS pressure sensor arrays for increased situational awareness by marine vehicles, Smart Materials and Structures, Vol. 22, no. 1, January 2013.
Large-scale nanophotonic phased array, Nature, Vol. 493, pp. 195-199, January 2013.
Image-predicated sorting of adherent cells Using photopatterned hydrogels, Advanced Healthcare Materials, (ASAP) 2013.
» MORE PUBLICATIONS



The Spring 2013 MTL Seminar Series continues! Visit the seminar series homepage.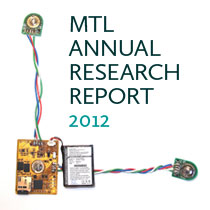 Now available online!