EECS celebrates the launch of SuperUROP
November 2, 2012
Collaboration between EECS and the MIT Undergraduate Research Opportunities Program (UROP) office and evolved out of the 2012 EECS strategic plan
The Department of Electrical Engineering and Computer Science (EECS) held a reception on Oct. 18 to celebrate the official launch of the new SuperUROP undergraduate research program. The SuperUROP is a collaboration between EECS and the MIT Undergraduate Research Opportunities Program (UROP) office and evolved out of the 2012 EECS strategic plan, which included strong participation from faculty, students and staff.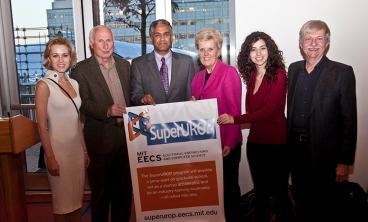 At the reception, Department of Electrical Engineering and Computer Science Head Anantha Chandrakasan introduced some of the key players in the implementation of SuperUROP. The speakers, from left to right, included Dr. Erika N. Angle '04, who with her husband, Colin A. Angle '89, SM '91 (not pictured), support SuperUROP; Analog Devices Chairman and Co-Founder, Ray Stata '57, SM '58; Chandrakasan; Julie B. Norman, senior associate dean for undergraduate education and UROP director; Carine Abi Akar '12, member of USAGE in 2011-12; and EECS Professor and Undergraduate Officer Dennis Freeman.
Photo: Bethany VersoyAs a part of the SuperUROP program -- which began at the start of this semester -- students engage in a yearlong research experience, and participate in a course titled "Preparation for Undergraduate Research." The course covers a range of topics, from selecting projects and research topics in EECS, to entrepreneurship and ethics in engineering. At the end of the academic year, students receive a certificate in advanced undergraduate research with a designated focus area.
Members of the inaugural class of the SuperUROP program, sponsors, MIT administrators who contributed to its implementation, and EECS faculty mentors and guests joined EECS Department Head Anantha Chandrakasan in the Stata Center R&D Dining area to celebrate. Chandrakasan welcomed all at the gathering and acknowledged those who helped make SuperUROP a reality.
Chandrakasan, who initiated the idea when he became department head in July 2011, acknowledged the valuable inputs from students in the 2011-12 Undergraduate Student Advisory Group (USAGE). "Their inputs were critical in developing a program that generated excitement among the students," he said.
Chandrakasan noted that the program would not be possible without significant financial support. Fourteen companies, individual donors and several anonymous donors are generously supporting the students through the Research and Innovation Scholars Program (RISP). RISP is a prestigious named-scholars program that funds the students doing the SuperUROP and provides some discretionary funding for the host research group. The companies and individual donors are providing not only mentoring, but also project suggestions and research directions. A total of 85 Research and Innovation Scholars (EECS juniors and seniors) were named this fall.
Since the SuperUROP website became available in spring 2012, EECS faculty and research staff and industry sponsors posted more than 100 innovative projects. Students picked from these projects or proposed their own ideas.
See more event photos: http://www.eecs.mit.edu/news-events/announcements/launch-superurop-celebrated-oct-18-2012
-- Patsy Sampson, Department of Electrical Engineering and Computer Science, 11/2/2012
---