Issue 2013.5
Friends and colleagues,

MTL's research and innovation missions are focused by close interactions with our industry partners, so we filled our spring semester with technical encounters that took place on the MIT campus and off: In February we held MTL Day at Maxim Integrated in San Jose, Calif. and then hosted Maxim President and CEO Tunç Doluca's annual visit to MTL in March. A visit to Lam Research in Freemont, Calif. treated us to (now frequent) encounters with successful MTL alums, and we feasted our technical interests during the tour of Lam's latest 300 mm tools.

Early semester visits by Intel and Foxconn delegations exposed MTL students to technical opportunities at our partner companies. And an MTL seminar series talk by Sami Kiriaki of Texas Instruments was the prelude to an inspiring visit to TI's Kilby labs in Dallas, masterfully organized by our TI colleague and MTL liaison Dennis Buss. To this we added an early-year visit to Qualcomm by President Rafael Reif and myself, and an engaging meeting at MTL with Qualcomm's founder Irwin Jacobs. Multiple conversations with Ray Stata, co-founder of Analog Devices, provided great insights into technologies that will redefine the 21st century. The additional visit to MTL of a TI delegation led by Steve Lyle opened a number of collaborative opportunities.

In May, Rob Gilmore, MTL Qualcomm liaison, introduced us to Greg Wright, who presented an elegant seminar on "Energy and power in the mobile computing world." One week later, Marco De Fazio, STMicroelectronics' liaison to MTL, staged a visit of Bruno Murari, who shared wisdom accrued over the decades in "From More Moore to More than Moore." We topped May's activities with annual gatherings of the Center for Integrated Circuits and Systems (CICS) and the Medical Electronic Device Realization Center (MEDRC), which convened many great speakers and informed even more attendees from MIT and beyond.

These technical encounters fueled much innovation. Just take a look below at some of the latest news from the MTL innovation factory, and then send us a note with updates on alumni, start-ups, or your other technical activities.

To all I wish a productive summer,

Vladimir Bulović, MTL Director





Making frequency-hopping radios practical


May 15, 2013





Dana Weinstein and Laura Popa have developed new hardware that could lead to wireless devices that identify and exploit unused transmission frequencies, Using radio spectrum much more efficiently.


» Read More...










That's the way the droplets adhere
February 21, 2013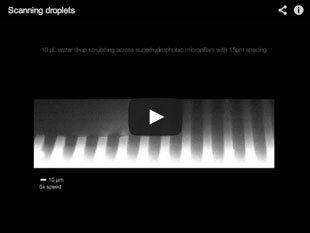 New technique developed by Prof. Kripa Varanasi and grad student Adam Paxson provides first direct views of how drops and bubbles adhere to surfaces—and how they let go.
» Read More...





Toward practical
compressed sensing


February 1, 2013





Researchers in Vladimir Stojanovic's group show how the vagaries of real-world circuitry affect the performance of a promising new technique in signal processing and imaging.


» Read More...



Making nanospinning practical
November 20, 2012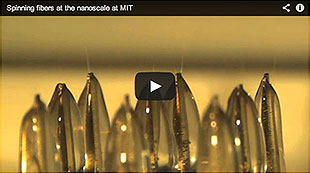 (Ed. note: Omitted from last issue; our apologies to Dr. Velasquez-Garcia!)

Nanofibers have a dizzying range of possible applications, but they've been prohibitively expensive to make. MIT researchers hope to change that.
» Read More...


Faculty Profile:
Jeffrey C. Grossman


April 2013





His current research centers on the development of new solar thermal fuels, the design on nanoporous membranes for water desalination, three-dimensional photovoltaic panels, new materials to convert waste heat into electricity, and more


» Read More...

« Back to top

We greatfully acknowledge the support of our MIG member partners:




MIT's Fab Lab
shares the wealth
Dr. Vicky Diadiuk talks designing & fabricating custom devices for next generation research.
» READ MORE...



Start-up engineers see-Through solar cells
A spectrally selective approach could enable tablets, e-readers, and windows to turn light into power.
» READ MORE...




5th Annual MEDRC Workshop on Next-Generation Medical Electronic Systems
May 2-3, 2013




A forum for experts from academia, the semiconductor and medical device industries, and the medical profession—the workshop brought together great minds to exchange technical ideas, explore collaboration opportunities, and define directions related to health care systems. The workshop featured 18 expert presentations covering topics in epidemiology, sensorineural assistance, oncology and pathology, aging, and blood disorders.
MARC2013
January 29, 2013

The MTL Annual Research Conference (MARC2013) co-chaired by Katherine Song and Kailiang Chen, along with their stellar student committee, led a widely-praised event. A keynote by Dr. Lisa Su of AMD and a dinner speech by Prof. Tom Lee of Stanford framed the largest MARC event yet, with 100 posters presented (a MARC record) as well as eight student research talks (a new MARC event). MIG members Maxim and Texas Instruments sponsored the awards ceremony.
» View MARC2013 on Flickr.
MTL at ISSCC
February 8, 2013
Over 100 faculty, students, industry members, and alumni gathered at the 4th ISSCC MIT CICS/MTL reception held in the Club Atrium at the San Francisco Marriott in February. This networking opportunity allowed attendees to catch up with alumni, faculty, and students. MTL alumnus from Texas Instruments, Brian Ginsburg, anticipated the event was a highlight of the week and "was not disappointed." Hinmeng Au of Innovation Counsel, LLP (and MTL alumnus) remarked, "It was nice catching up with MIT folks, meeting recent grads, and talking to industry people."
—Debroah Hodges-Pabon
» View MTL at ISSCC on Flickr.


Capturing energy from the sun
Light-harvesting nanotubes and quantum dots unlock key to modeling nature's efficient energy-tranfer processes.
RCL Videos
The Research Communication Laboratory (RCL) is a collaboration between the Center for Excitonics and the Boston Museum of Science, directed by Carol Lynn Alpert. Grad students from the center learn how to reach broader public and scientific audiences via well-designed presentations, graphics, and clear writing.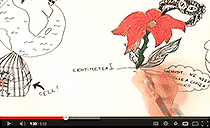 During an intensive one-week science communication internship at the Museum in January, RCL students Daniel Congreve and Stephanie Valleau (Harvard) produced The Exciting World of Excitons.



Shane Yost and Jordan Chesin produced How Solar Panels Work, featuring the exploits of Phrank the Photon and Eddee the Exciton. The animations are posted on the YouTube NanoNerds channel.




Synthesis and Transfer of Single-Layer Transition Metal Disulfides On Diverse Surfaces, Nano Letters, Vol. 13, no. 4, pp. 1852-1857, April 2013.
Resolution Limits of Electron-Beam Lithography Toward the Atomic Scale, Nano Letters, Vol. 13, no. 4, pp. 1555-1558, April 2013.
Wettability of Graphene, Nano Letters, Vol. 13, no. 4, pp. 1509-1515, April 2013.
Lasing Through a Strongly-Coupled Mode By Intra-Cavity Pumping, Optics Express, Vol. 21, no. 10, pp. 12122-12128, May 2013.
Large Inherent Optical Gain from the Direct Gap Transition of Ge Thin Films, Applied Physics Letters, Vol. 102, no. 13, April 2013.
A 2.4 Ghz Multi-Channel FBAR-Based Transmitter with an Integrated Pulse-Shaping Power Amplifier, IEEE Journal of Solid-State Circuits, Vol. 48, no. 4, pp. 1042-1054, April 2013.

A 1.23pj/B 2.5Gb/S Monolithically Integrated Optical Carrier-Injection Ring Modulator and All-Digital Driver Circuit in Commercial 45nm SOI, 2013 IEEE International Solid-State Circuits Conference (ISSCC 2013), pp. 126-127, 2013.

Strong-Field Photoemission from Silicon Field Emitter Arrays, Annalen der Physik, Vol. 525, no. 1-2, pp. 144-150, February 2013.
Hydrophobicity of Rare-Earth Oxide Ceramics, Nature Materials, Vol. 12, no. 4, pp. 315-320, January 2013.
Large-Scale Nanophotonic Phased Array, Nature, Vol. 493, no. 7431, pp. 195-199, January 2013.
Microscale Electrodialysis: Concentration Profiling and Vortex Visualization, Desalination, Vol. 308, pp. 138-146, January 2013.

Light-Recycling Within Electronic Displays Using Deep Red and Near Infrared Photoluminescent Polarizers, Energy and Environmental Science, Vol. 6, no. 1, pp. 72-75, January 2013.

A Wearable Cardiac Monitor for Long-Term Data Acquisition and Analysis, IEEE Transactions on Biomedical Engineering, Vol. 60, no. 1, pp. 189-192, 2013.
Energy-Aware Design of Compressed Sensing Systems for Wireless Sensors Under Performance and Reliability Constraints, IEEE Transactions on Circuits and Systems I: Regular Papers, Vol. 60, no. 3, pp. 650-661, 2013.
Self-Deployed Magnetic Polygons: Design, Construction, and Application, IEEE Transactions on Magnetics, Vol. 49, no. 1, pp. 496-505, 2013.
Optimization of Integrated Transistors for Very High Frequency DC-DC Converters, IEEE Transactions on Power Electronics, Vol. 28, no. 7, pp. 3614-3626, 2013.
» MORE PUBLICATIONS



Mara Karapetian was promoted to Manager of Media & Design as of January 2013.


On May 11, there was a festive gala held in honor of MIT President L. Rafael Reif, former director of MTL. The event was organized by the MIT Club of Boston and the Latino/a Alumni/ae of MIT and was held at the Museum of Fine Arts. The program included performances by the MIT Ballroom Dance Team and the Luis D'Elias ensemble, and featured a roast by current MTL director Vladimir Bulovic.
MTL congratulates our colleagues Ernest Moniz and Bob Armstrong for their respective appointments to Secretary of Energy and Director of MITei!



The Spring 2013 series has wrapped up, but the Fall 2013 MTL Seminar Series will begin in September! Visit the seminar series homepage for archived recordings from the series (a benefit to MIG members and members of the MIT community).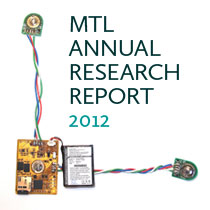 Now available online!