Paul Penfield, Jr., "Are These Trends Permanent?," NEEDHA Annual Meeting, Kahuku, HI; March 16, 1998.
---
Are these Trends Permanent?
Paul Penfield, Jr.

Professor of Electrical Engineering

Head, Department of Electrical
Engineering and Computer Science
Massachusetts Institute of Technology
Cambridge, MA 02139-4307

(617) 253-4601
penfield@mit.edu http://www-mtl.mit.edu/~penfield/
---
Increasing Interest in Computer Engineering and Computer Science
Many of us are noticing this trend
Sometimes accompanied by less interest in EE
Questions for this session:


Is this trend widespread?


Is this trend permanent?


Is this trend felt similarly by different types of departments?


How should we cope with it?
I will try to address the first two questions
Other speakers will address the third


School of Engineering (e.g., Dartmouth)


Department of EECS (e.g., Berkeley)


Department of ECE (e.g., CMU)


Department of EE (e.g., Stanford)

All of us will have to deal with the last
---
MIT Actual Data
Interest in Computer Science is [insert your word here]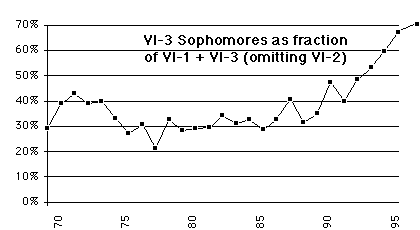 ---
Is This Trend Widespread?
The Plural of "Anecdote" is "Data"


Here is some Data, from NEEDHA members
Informal survey of NEEDHA members, March 1998


300 universities surveyed


42 responses
Typical % of total students in CE, CS, or some combination


Recently rising; now between 50% and 80%
EE enrollment


19 down, 7 flat, 5 up
CE enrollment


0 down, 3 flat, 28 up, 4 new programs
CS enrollment


1 down, 4 flat, 18 up
---
Is This Trend Permanent?
Fundamental Reasons for this Trend

Change in Society



Computation, information, communication more pervasive



Enabled by predictable advances in microelectronics



Fueled by exciting "killer apps" (e.g., spreadsheet, DTP, Web)


Booming job market



At all levels: Bachelor's, Master's, Doctoral


Student choice of a career in computing is rational
EE, CE, and CS are all changing rapidly

Increasing power of hardware, software, networks


Decreasing cost of computation, electronics


Boundary among these technologies is rapidly changing


Students have to optimize designs across these boundaries
Are EE, CE, and CS really distinct disciplines?

Or are they specialties within one discipline?
---
Coping
Preferentially hire CE and CS faculty


A lot of junior faculty cannot decide if they are EE or CS
Prepare faculty for cross-teaching
Add new degree programs
Increase Teaching Assistants
--------------------
One final note -- a quote from my survey:


In talking with students, some stated that our strong 3 course CS intro sequence, taught by excellent teachers, seduced them into the CS track. To address this, we are ...
---
URL of this page: http://www-mtl.mit.edu/users/penfield/pubs/needha-98.html
Created: Mar 16, 1998 | Modified: Dec 31, 1998
Related page: Penfield publication list
Site map | To Paul Penfield's home page | Your comments are welcome.