---
Fellow, IEC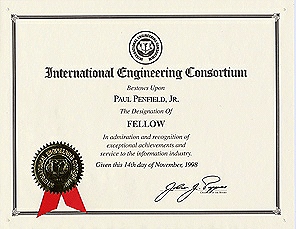 International Engineering Consortium
Bestows Upon
PAUL PENFIELD, JR.
The Designation Of
FELLOW
In admiration and recognition of
exceptional achievements and
service to the information industry.
Given this 14th day of November, 1998
---
URL of this page: http://www-mtl.mit.edu/users/penfield/honor-iec.html
Related page: Honors and Awards
Created: Jun 3, 2002 | Modified: Jun 3, 2002
Site map | To Paul Penfield's home page | Your comments are welcome.