MARC2006
January 25-26, 2006
Waterville Valley Conference and Event Center
Congratulations!
MARC2006 was a huge success. Thanks to all those who attended! We'd like to announce the winners of the oral presentation awards from MARC2006:
Brian Ginsburg
Blaise Gassend
John Hart
Elliot Hui
Albert Lin
Brian McKenna
Muyiwa Olubuyide
Daniel Truque
Joyce Wu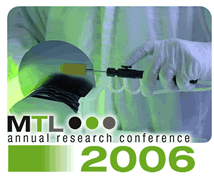 About the Conference
For over 15 years, MTL has held a yearly meeting that gives students an opportunity to share their research with other members of the community. In 2005, we introduced a new identity for the student review, now known as the MTL Annual Research Conference. The objectives of MARC are to provide an MTL-wide forum for the presentation of the research achievements of the past year and to promote interaction between MTL students, faculty, and industry partners. We are pleased to once again return to Waterville Valley in 2006 for two days of business with pleasure.
MARC2006 Steering Committee
Prof. Anantha P. Chandrakasan, Steering Committee Chair
Samuel C. Crooks
Prof. Joel L. Dawson
Mara E. Karapetian
Prof. Jongyoon Han
Debroah Hodges-Pabon
MARC2006 Technical Program Committee
Antimony L. Gerhardt, Program Chair
Naveen Verma, Program Chair
Farinaz Edalat, Presentation Coordinator
Matt Park, Circuits & Systems Session Chair
Kevin Ryu, Circuits & Systems Session Co-Chair
Vikas Sharma, Photonics Session Chair
Ali Motamedi, Photonics Session Co-Chair
Ole Nielsen, MEMS Session Chair
Michael Vahey, MEMS Session Co-Chair
Katarzyna Puchala, BioMEMS Session Chair
Jianping Fu, BioMEMS Session Co-Chair
Anita Villanueva, Molecular & Nanotechnology Session Chair
Tan Wu, Molecular & Nanotechnology Session Co-Chair
Osama Nayfeh, Electronic Devices & Emerging Technologies Session Chair
Kwaku Abrokwah, Electronic Devices & Emerging Technologies Session Co-Chair
MARC2006 Publications Committee
Mara E. Karapetian, Publications Chair
Lane G. Brooks
Nigel A. Drego