Micro & Nanosystems in Action at the
Microsystems Technology Laboratories
June 3, 2016
MTL joins in on the celebration of the century.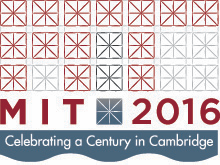 When asked to participate in the MIT100 open house in celebration of MIT's moving to Cambridge one hundred years ago, a group of zealous MTL members jumped at the opportunity to showcase the Microsystems Technology Laboratories. This team has a "go big" spirit and created displays and demonstrations to share with over 500 visitors on April 23rd, completely transforming the lobby of Building 39.
Colleagues, students, parents, children, and MIT neighbors equally enjoyed learning about portable X-ray sources, coaxial electrospray systems, wafers and semiconductor devices. The day even included many guided window tours of MTL's Class 10 clean room.
This magnificent group went further to generate fun by creating an MTL logo "selfie-wall" which got families and friends together for a quick photo op. And if that wasn't enough, a selection of cleanroom bunny suits provided a space to play dress up for the children and big children alike!
A huge shout out to Dan Adams, Anirban Basu, Vicky Diadiuk, Mara Karapetian, Luda Leoparde, Bill Maloney, Paul McGrath, Ryan O'Keefe, Daniel Olvera Trejo, Gary Riggott, Paul Tierney, Luis Velazquez-Garcia who energized and re-energized so many with such fascinating topics. Their passion shines.
--Microsystems Technology Laboratories
---