MTL Holds 2016 Microsystems Annual Research Conference (MARC2016)
February 26, 2016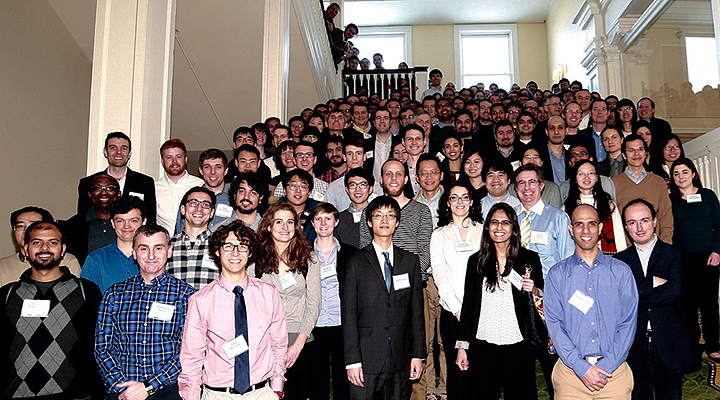 MARC2016 attendees gather at the grand staircase for a group photo opportunity. Photo, Paul McGrath/MTL.For the past twelve years - and many more before that in an evolving format--the Microsystems Annual Research Conference (MARC) has highlighted the research achievements of students, postdocs and staff who use MTL's facilities and design tools in their varied nanotechnology and nanosystems research projects. MTL's signature conference not only celebrates these accomplishments, but also lays the groundwork for technical interactions and collaborations leading to the next generation of innovation.
MARC2016 was held on January 20-21, 2016 at the Omni Mount Washington Resort in Bretton Woods, New Hampshire. In attendance this year were approximately 175 students, postdocs, faculty, staff, and industry partners, including 20 Microsystem Industrial Group (MIG) company guests and 28 student / postdoc organizers. There were 100 posters and 9 featured talks, including a dinner speaker and a keynote speaker.
The program began on Wednesday, January 20th, with a reception followed by a dinner banquet. Opening remarks were given by the student co-chairs, Priyanka Raina and Wenjie Lu, and by MTL Director Jesús del Alamo. The invited banquet speaker, Dr. Mary Lou Jepsen of Facebook, gave us a wide-ranging history of her career in computing and display technology, including her experience as co-founder of One Laptop per Child.
Thursday's technical activities began with a morning keynote by Prof. John Rogers of the University of Illinois, Urbana-Champaign. Dr. Rogers gave a fascinating presentation about his research with flexible and stretchable electronics for 'tissue-like' bio-integrated applications.
The morning program continued with two technical sessions, in which presenters gave 60-second overviews of their research,showcased in more detail on their posters. The subsequent poster session was packed, with numerous lively and interactive conversations among presenters and attendees.
Following a luncheon with tables hosted by representatives from the companies that belong to the Microsystems Industrial Group, selected works among the MARC participants were featured in a series of 15-minute oral presentations. The speakers were selected by the students organizing MARC2016.
Towards the end of the conference, awards were given for the best pitches, featured talks, and to thank the student committee members for their work in delivering a stellar conference experience for all. MARC2016 concluded with remarks and thanks from MTL director, Prof. Jesús del Alamo.
We hope that MARC2016 has renewed the energy of the MTL community, and we look forward to gathering once again at MARC2017!

---