Two MTL students receive awards from the China Scholarship Council
June 1, 2015
Award presented by Consul General of the People's Republic of China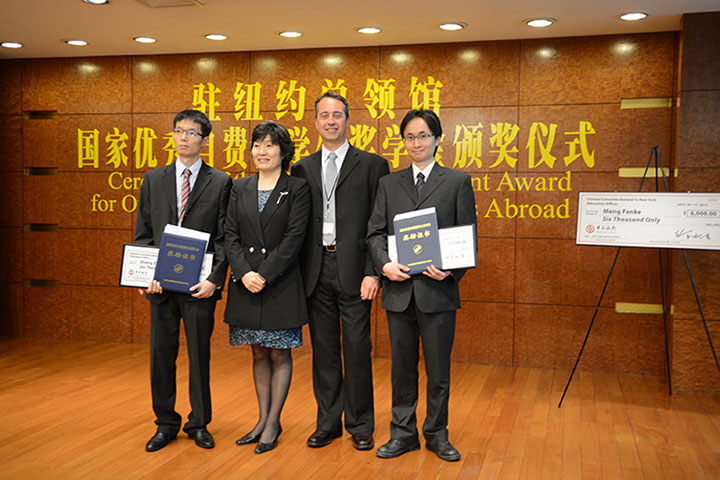 From left to right: Zheng Zhang, Consul General Qiyue Zhang, Prof. Luca Daniel and Jianqiang Lin. Photo, MTL.
Zheng Zhang and Jianqiang Lin, two students from MTL-affiliated research groups, were granted the "2014 National Award for Outstanding Self-financed Chinese Student Study Aboard." The award ceremony was held in New York city on April 17, 2015.
This award is funded by the China Scholarship Council and it aims to recognize academic excellence of self-financed* Chinese students studying overseas across all disciplines. Zheng and Jianqiang are among the five award winners from MIT in 2014.
The Consul General of the People's Republic of China in New York, Qiyue Zhang, presented the awards. MIT professor Luca Daniel attended the award ceremony.
In their doctoral research, Zheng is advised by Prof. Luca Daniel, and Jianqiang is advised by Profs. Jesús del Alamo and Dimitri Antoniadis.
Congratulations Zheng and Jianqiang!
--Microsystems Technology Laboratories
* Self-financed refers to students whose graduate study has not been supported by any other Chinese government scholarship
---