MTL's Amr Suleiman places third at Broadcom research competition
June 5, 2015
Work could be applied in many embedded systems, such as automotive moving object detection, Unmanned Aerial Vehicles and portable electronics.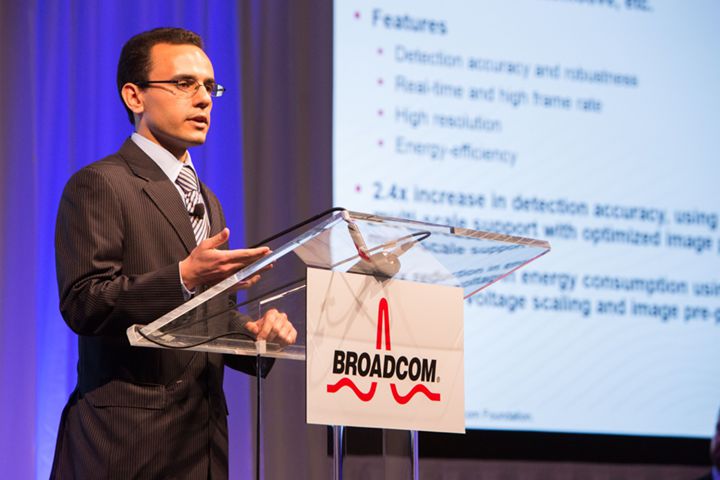 Amr Suleiman, a graduate student in Prof. Vivienne Sze's research group, recently won third place at the 4th annual Broadcom Foundation University Research Competition. This competition, sponsored by the non-profit Broadcom Foundation and held annually at the Broadcom Corporation's Technical Conference in Irvine, California, encourages young researchers throughout the world to become the next generation of great innovators in electrical engineering and related fields.
Suleiman's project, titled "An Energy-Efficient Hardware Implementation of HOG-based Object Detection at 1080HD 60 fps with Multi-Scale Support," was among finalists from 12 universities in the competition. Selected by the Broadcom Foundation's Selection Committee comprised of preeminent engineers, finalists shared insight into their engineering research and how its future application will contribute to advancement of society. In the competition's final round, more than 400 distinguished Broadcom engineers rated the finalists on a three-minute presentation with a single slide and a four-hour poster session where they demonstrated the scientific rigor, technology sophistication, and innovation of their work.
"Spearheaded by Broadcom Corporation's co-founder and chairman of the board, Henry Samueli, this competition celebrates both academic excellence and social awareness by graduate students whose engineering innovations will yield unlimited benefits not only to their generation, but society at large," said Paula Golden, President and Executive Director of Broadcom Foundation and Director of Community Affairs at Broadcom Corporation. "The talent and intellectual fire-power of these finalists, who are engaged in ground-breaking research at premier universities from across the world, is profound. We are honored to have them compete in the Broadcom Foundation University Research Competition."
The top three winners are awarded unrestricted cash prizes of $10,000, $5,000, and $2,500, respectively.
The work that Amr presented for this competition was published in 2014 at the IEEE International Workshop on Signal Processing Systems (SiPS) and will appear as an article in the Journal of Signal Processing Systems in 2015.

--Microsystems Technology Laboratories
---