Pat Burkhart and Debb Hodges-Pabon honored with Infinite Mile Awards
April 15, 2015
Awards ceremony to take place on May 19th in the Grier Room from 3-5PM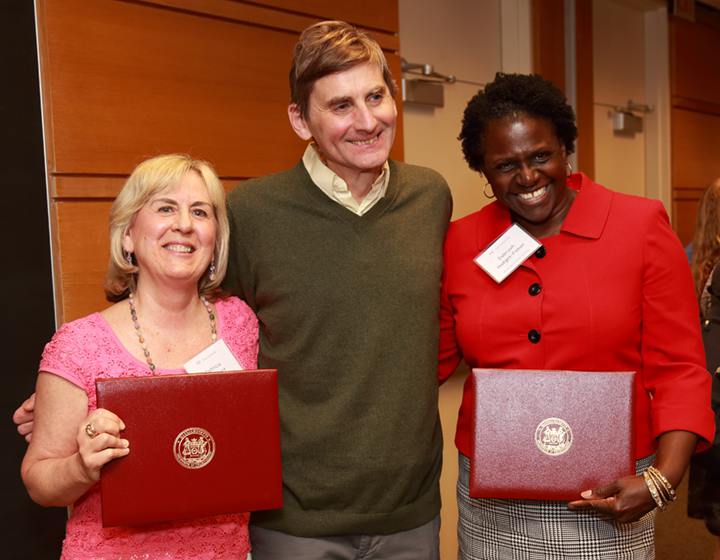 Fro left to right: Patricia Burkhart,Jesus del Alamo, and Debroah Hodges-Pabon. Photo, Paul McGrath/Microsystems Technology Laboratories, MIT.
In a letter to MTL staff on April 15, MTL Director Jesús del Alamo announced that Patricia Burkhart and Debroah Hodges-Pabon were selected as recipients of the School of Engineering's 2015 Infinite Mile Award. This award program began in 2001 to "recognize and reward members of the School's administrative staff, support staff, service staff, sponsored research staff, and, when appropriate, academic staff," according to the School's website.
del Alamo's email stated, "Patricia Burkhart has been honored with the Infinite Mile Award for Excellence. Pat is MTL's Safety Coordinator. She has been with MTL since 1992 serving the community in various capacities. Pat is responsible for the safe operations of MTL's fab facilities in Bldg. 39 and faculty labs in Bldgs. 38 and 39. This is no simple task. A measure of the sheer size and complexity of MTL's fab operations is the fact that Bldg. 39 is the building that dissipates the greatest amount of energy at MIT. Pat is instrumental in maintaining the highest standards of safety in the running of our facilities and she does so with thoroughness, generosity and style. She also does this in close coordination with the relevant offices at MIT responsible for environmental health and safety. Bldg. 39 and MTL have maintained an impeccable safety record over the years and this is greatly due to Pat's commitment to excellence in all respects.
"Debroah Hodges-Pabon has been selected to receive the Infinite Mile Award for Diversity and Community. Debb is the Personnel and Operations Administrator of MTL. Debb has been with MIT and MTL since 1995. One of Debb's many responsibilities is to coordinate MTL's community events that periodically bring together staff, students, postdocs, faculty and visitors. With a community that involves over 650 members, these are often large and complex affairs that require detailed planning and close team work. Under Debb's leadership, these events run like clockwork while being fun and relaxed at the same time. It is a great source of pride for me, and this happens with some frequency, when I am told how much admiration there is around MIT for the community spirit that we have managed to create in MTL. This is no accident. It is deliberate and by design. But it wouldn't happen without the talent, dedication, and generosity of Debb."
The awards ceremony will be held on May 19th from 3 to 5PM in the Grier Room (34-401). All of MTL is asked to please plan to attend in order to celebrate Pat and Debb's accomplishments.
Congratulations, Pat and Debb!
--Microsystems Technology Laboratories, 4/15/2015
---