MTL Day at Qualcomm
February 25, 2015
MTL Visit to Qualcomm: January 15, 2015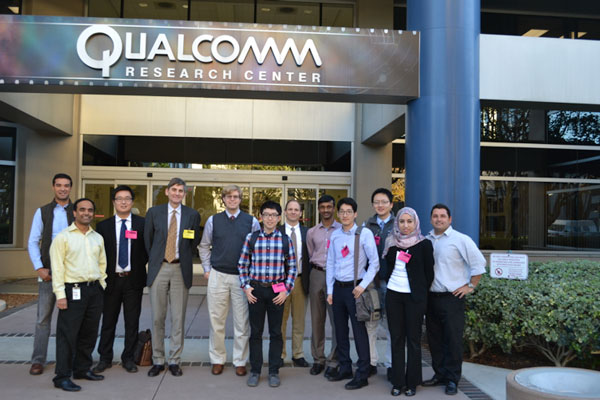 On January 15, 2015, a group of nine from MTL visited the Qualcomm Research Center in San Diego. These included Professors Jesús del Alamo, Ruonan Han, and David Perreault; research scientist Nathan Ickes; and graduate students Dina El-Damak, Arun Paidimarri, Minjie Chen, Hyun Boo, and Joohyun Seo. The local hosts were David Hansquine, Qualcomm representative on MTL's Industrial Advisory Board, as well as Adrian Nuñez-Rocha and Eladio Arvelo.
The day began with a presentation by Qualcomm Vice President Karim Arabi on Qualcomm ASIC R&D and with Professor del Alamo providing an Introduction to MTL. Presentations by the MTL visitors continued throughout the day on a variety of topics related to THz and power electronics, sensors, analog-to-digital converters, and medical systems. Six MTL affiliated research groups were represented. The formal part of the day was capped by an interesting demonstration of a motion-sensing camera by Qualcomm's Venkat Rangan. A large and enthusiastic group of Qualcomm employees attended the meeting, and additional Qualcomm employees participated via remote conferencing.
Following the presentations came a tour of Qualcomm's laboratories, and then an early dinner. The day was a great success by all accounts.
--Bill Holber, MTL Associate Director, Industrial Relations; 2/25/2015

---