MTL community marks successful MARC2015
February 11, 2015
In its new location at Quincy, MA, MTL's signature event continues to bring the MTL community together and to celebrate research achievements.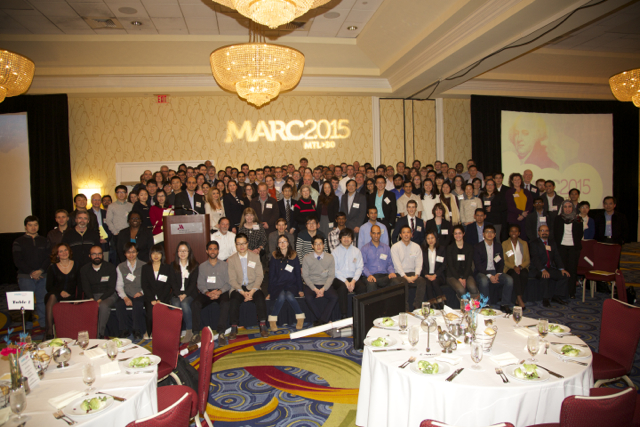 Group photo taken at MARC2015. Photo, Paul McGrath/MTL.
For the past eleven years, the Microsystems Annual Research Conference (MARC) has highlighted the research achievements of students and staff using MTL's facilities and design tools in their varied nanotechnology and nanosystems research. This signature conference not only celebrates these accomplishments, but it lays the groundwork for technical interactions and collaborations leading to the next generation of innovation.
MARC2015 was held on January 22, 2015, for the first time at the Boston Marriott Quincy in Quincy, MA. This new location provided its own beauty and elegance that made it a logical choice for MARC, with a unique layout that allowed us this year to have all student posters on display for the duration of the conference.
In attendance this year were over 200 students, postdocs, faculty, staff, and industry partners, representing 6 MIT departments and 14 of MTL's member companies.
The technical activities began with a captivating morning keynote by Dr. Ken Gabriel, President and CEO of Draper Laboratory, who brought his experience at DARPA and Draper to help us gain insight into the building of successful innovation models.
The program continued with a glimpse at the wide variety of MTL's research in the form of 60 second elevator pitches delivered by students and postdocs with the goal of enticing attendees to visit their posters.
A new innovation this year was the introduction of tables for each MIG company during the luncheon. This gave students an opportunity to find and chat with representatives from MTL's member companies who were present at MARC2015. The luncheon format was a great success and from the feedback received, seems like it may become a mainstay for MARC in the future!
Following the luncheon, the works of 9 MTL students and postdocs, selected by the student organizing committee, were featured in 15 minute presentations. This gave presenters a chance to discuss their research in more depth before the poster session to follow.
The subsequent poster session featuring 87 presenters were lively and interactive, and all the while a "poster assassins" game raged on to win raffle tickets and glory.
The conference wound down with a dinner banquet and an evening keynote by Professor Lynn Conway titled "Envisioning the Microworld: Adventures Ahead" where she gave us her thought-provoking ideas on the future of innovation. Prof. Conway was kind enough to provide us with a transcript of her talk, which can be found on the MARC2015 website.
After the keynote, the conference concluded with an awards ceremony recognizing the featured presenters and the winners of the 60 second pitches.
The goal of MARC every year is to provide a setting in which the MTL community can gather, highlight its accomplishments, and drive the innovation that keeps MTL at the forefront of technology. We hope that MARC2015 has renewed the community's energy and ambition, and we look forward to gathering once again at MARC2016!
--Shireen Warnock and Marek Hempel, MARC2015 co-chairs; 2/1/2015
60 second pitches winners
Overall:
Electronics & Quantum Devices
Circuits & Systems
MEMS & NEMS
Energy
Photonics & Optoelectronics
Nanotechnology
Materials & Manufacturing
Medical Devices & Biotechnology
Feature talk presenters
Kevin Bagnall, "Transient Thermal Issues in GaN HEMTs">
Banafsheh Barabadi, "Thermal Characterization of GaN HEMTs via Photo-Thermal Reflectance Thermography"
Winston Chern, "Srained-Si/Strained-Ge Heterostructure Bilayer TFET"
Edward Chen, "Coherent Spin Control of a Cavity-Enhanced Qubit in a Diamond Nanophotonic Structure"
Alex Patterson, "Elementary Framework for Cold Field Emission: Emission from Quantum-Confined, Non-Planar Emitters"
Yan Chen, "Electronic Activation at Oxide Superlattices at Elevated Temperatures: Source of Markedly Accelerated Oxygen Reduction Kinetics"
Dina El-Damak, "Solar Energy Harvesting System for Ultra-Low Power Applications"
Jorg Scholvin, "High-Density Electrode Arrays for Neural Recording"
Seongjun Park, "Nerve Growth Control Using Optogenetics"
---