Wenjie Lu earns 2014 Ernst Guillemin Award for Best Master's Thesis in Electrical Engineering
November 19, 2014
Awards given by department in Fall 2014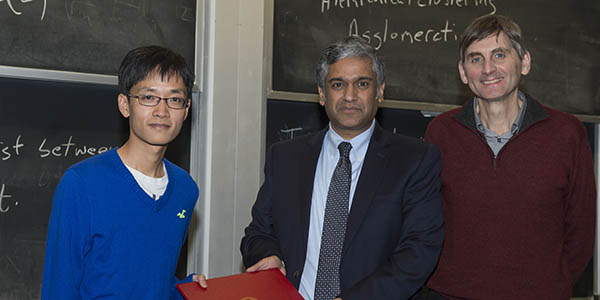 EECS Department Head Prof. Chandrakasan presents Wenjie Lu with the first place 2014 Ernst Guillemin Master's Thesis Award. His advisor Prof. Jesús del Alamo is standing photo right. Photo, EECS.
MTL graduate student Wenjie Lu has been selected as the winner of the first prize 2014 Ernst Guillemin Award for Best Masters Thesis in Electrical Engineering. This award is given by the Department of Electrical Engineering and Computer Science at MIT. His thesis is titled "Nano-scale Ohmic Contacts for III-V MOSFETs" -- work completed under the supervision of Prof. Jesús del Alamo of EECS and MTL. Lu is currently a doctoral student with Prof. del Alamo.
Wenjie received his award at a gathering of students and faculty of EECS on November 17, 2014 where other graduate thesis awards were also given. Department Head Anantha Chandrakasan welcomed the winners and attendees and Professor Devavrat Shah, the EECS Student Awards chair, emceed the event. A reception was held following this ceremony in building 34 lobby.
Congratulations, Wenjie!
---