MARC2014 excites and inspires MTL community
February 27, 2014
MTL's signature event finds new home in Bretton Woods to celebrate research achievements, bring community together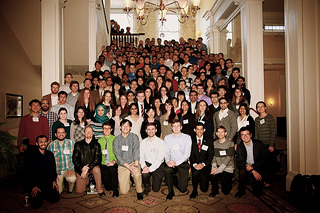 For the past ten years, MARC has served as MTL's signature event, bringing together professors, students, researchers, and industrial partners to celebrate the accomplishments of the past year while laying the foundations for future interactions and innovations.
This year's edition was held at the Omni Mount Washington Resort in Bretton Woods, NH. This was a new location for MARC and one that offered a variety of winter activities ahead of the technical conference activities for attendees to relax and unwind.
In attendance this year were over 220 students, postdocs, faculty, staff, and industry partners, representing 6 MIT departments and 13 of MTLs member companies.
The technical activities kicked off with the evening banquet that included an inspiring overview of the history of innovation at MIT by Dr. David Mindell, Professor of the History of Engineering and Manufacturing and chair of the MIT 150 Steering Committee. The talk was followed by a fun photo-scavenger hunt around the hotel and an evening of socializing at the "Cave," a prohibition-era speakeasy in the basement of the hotel.
The morning program began with a keynote by Dr. Robert Colwell, director of DARPA's Microsystems Technology Office, who gave an informative talk titled: "If you didn't test it, it doesn't work!" where he spoke about the important role that testing plays in engineering and design.
The program continued with an impressive display of MTL research in the form of 60 second elevator pitches delivered by students and postdoctoral researchers which were designed to encourage attendees to visit their posters.The subsequent poster sessions were lively and interactive, featuring 115 poster presenters, the largest number of presenters at MARC to date.
Following the poster sessions, the works of 9 MTL students and postdocs, as selected through a review process, were featured as 15 min presentations. This was a great opportunity for the presenters to go into additional depth about their research.
Finally, the conference concluded by an award ceremony recognizing the winners of the preview and featured presentations.
The goal of MARC2014 was to host a stimulating environment for the MTL community to share their accomplishments and to foster and spark fruitful discussions and ideas for future exploration. We hope that the community returned to campus with an even stronger drive for scientific and engineering advancements, and we look forward to gathering as a community once again at MARC2015!
--Farnaz Niroui and Philip Nadeau, MARC2014 co-chairs
---