Two awards for Palacios group at IEDM
December 16, 2013
Text taken from an e-mail written by MTL Director Jesús del Alamo to MTL community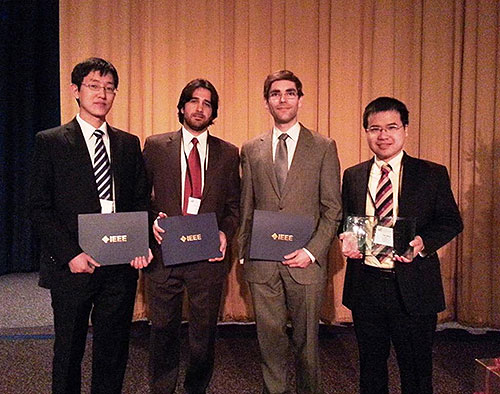 Shown, left to right: Bin Lu, Elison Matioli, Tomás Palacios, and Han Wang.
I am delighted to inform you that Prof. Tomás Palacios group has received two prestigious awards at the plenary session of the 2013 International Electron Devices Meeting that is taking place in Washington DC this week. IEDM is the premier conference in electron devices and it is a great honor to receive these awards at the plenary session.
First, Han Wang received the 2012 Roger A. Haken Best Student Paper Award. This is given to the best student paper presented at last year's IEDM conference. This is an extremely competitive award. Han carried out his PhD thesis with Prof. Palacios. His paper was titled "Large-Scale 2D Electronics Based Single-Layer MoS2 Grown by Chemical Vapor Deposition."
In addition, Bin Lu, Elison Matioli and Tomás Palacios received the 2012 Electron Devices Society George E. Smith Award. This is given to the best article published in IEEE Electron Device Letters in 2012. EDL is a prestigious, fast publication journal where leading research in electron devices is published. The winning paper is titled "Tri-Gate Normally-Off GaN Power MISFET." Bin Lu was a PhD student with Prof. Palacios while Elison Matioli remains as a postdoc.

It was fun to attend the plenary session of IEDM yesterday and witness these awards being given. The research that is being honored was carried out in MTL. We should all be very proud of the quality of the research that takes place in our lab.
Congratulations Tomás, Bin, Elison and Han!
-Jesus del Alamo
---