New Core Faculty Profile: Karen Gleason
October 2, 2013
This is part of an ongoing series about new MTL core faculty members.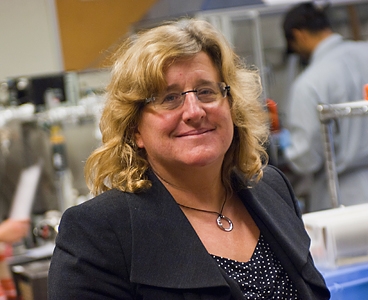 Dr. Karen K. Gleason is the Alexander and I. Michael Kasser Professor of Chemical Engineering. Since having joined the MIT faculty in 1987, Gleason has served as Executive Officer of the Chemical Engineering Department; Associate Director for the Institute of Soldier Nanotechnologies; and as Associate Dean of Engineering for Research. Additionally, Gleason co-cofounded GVD Corporation, which has successfully scaled-up and commercialized technology invented in her MIT lab. Her research focuses on the near room-temperature synthesis of ultrathin, conformal organic films by chemical vapor deposition (CVD).
Prof. Karen Gleason's lab studies the chemical vapor deposition of polymeric thin films and their applications in sensors, biotechnology, microelectronics/organic electronics, microfluidics, MEMS, composites, and membranes. They're currently studying functional polymers, conducting polymers, dielectric polymers, hydrogels, and composite organic/inorganic structures deposited using initiated chemical vapor deposition (iCVD) and/or oxidative chemical vapor deposition (oCVD).
---