Spotlight: MTL FFA Program is key resource for micro- and nano-fabrication in the Boston area
October 16, 2007
The MIT Microsystems Technology Laboratories (MTL) has established the Fabrication Facilities Access (FFA) Program as a key resource for micro- and nano-fabrication in the Boston Area. The MTL FFA Program enables trained personnel from participating companies to use the cleanroom facilities of the MTL. The program is open to both domestic and foreign companies.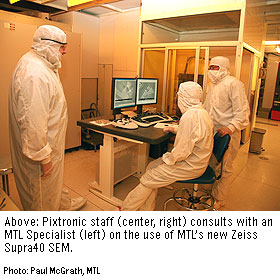 The first step in the FFA process involves defining the fabrication needs of the company and establishing a match between those needs and the MTL capabilities. After company personnel and MTL's technical staff agree on the feasibility of the project, the company pays a yearly fee to designate a processing engineer to be their FFA member. Once accepted in the FFA Program, the FFA engineer is a full-fledged member of the MTL fabs, with rights and responsibilities equal to those of other users.
Further details on the FFA Program can be obtained here
At present, several companies are FFA members and have found this model of interaction with MTL to be highly successful. Pixtronix is one of the most active current FFA companies using the MTL fabs.
Pixtronix is an emerging display company developing portable displays optimized specifically for mobile multimedia devices. The company's revolutionary DMS™ (Digital Micro Shutter™) display technology utilizes micro-electrical-mechanical systems (MEMS) to achieve levels of video image quality and power efficiency never before seen in a display. Pixtronix MEMS technology development is conducted at several clean room facilities, including MIT's Microsystems Technology Laboratories (MTL). The company's ties to MIT and MTL's flexible FFA program have been instrumental in achieving accelerated design cycles and process development. Pixtronix is located in Andover, Mass., and is funded by Atlas Venture, Kleiner Perkins Caufield and Byers, DAG Ventures, Gold Hill Capital and GF Private Equity Group.
---